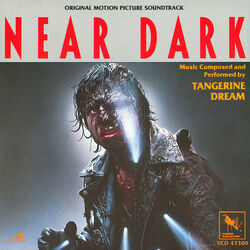 Near Dark: Original Motion Picture Soundtrack contains 11 tracks from Near Dark's original score composed by Tangerine Dream.
Track listing
Edit
1. "Caleb's Blues" 3:20
2. "Pick Up at High Noon" 4:59
3. "Rain in the Third House" 2:59
4. "Bus Station" 8:42
5. "Good Times" 2:37
6. "She's My Sister (Resurrection I)" 7:22
7. "Mae Comes Back" 2:02
8. "Father and Son (Resurrection II)" 2:58
9. "Severen Dies" 2:50
10. "Fight at Dawn" 4:40
11. "Mae's Transformation" 4:21
Songs not included
Edit
The movie also included several country & rock songs not released with Tangerine Dream's score:
Background Information and Notes
Edit
No official expanded soundtrack has been released. Fans share bootlegs on the internet containing additional Tangerine Dream tracks from foreign soundtrack releases. The country & rock tracks are also included.
References
Edit
External links
Edit